Publication: The Athletic

Tailored for hockey: Who is the most fashionable member of the Maple Leafs?by Joshua Kloke, Sat, April 15th.
If you're watching hockey on a Saturday night, there's a good chance you'll see groups of grown men walking through the bowels of arenas across North America, being lauded for how well they're dressed. The tradition of hockey players wearing full suits to games goes back much longer than The Athletic can remember, but one thing is certain: More and more NHL players are taking their fashion choices seriously.
So The Athletic asked the Toronto Maple Leafs about that fashion: Where do they get their suits? Who is the best dressed Maple Leaf? (We also spoke to Dennis Tavares, owner of Toronto's Empire Customs, who outfits most of the players on the team.)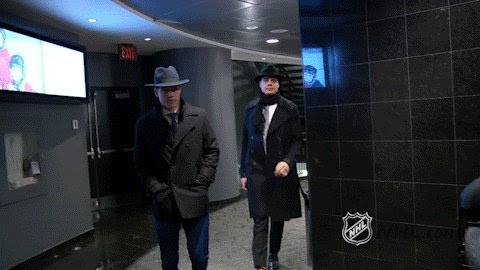 Frederik Andersen: "Obviously, it's got to look good. I'm very particular with how soft it is. It has to be comfortable because you literally wear it every other day of the year. Sometimes you feel like you're wearing a suit every day on the road. A little bit of elastic, some stretch and it feels good even though it looks tight. The European look. I hate a big suit."
Best dressed: "I've got to put myself in there. I like what I wear. It's nothing too crazy, you have to keep it simple. Some guys try to do a little bit too much. I'm not going to name names but … you probably see them walking in sometimes."
Tavares: "Our process usually takes between two to six weeks, depending on production speed. For the Leafs, we know they're very busy and they're top-tier clients. We do out best to do things faster."
Brian Boyle: "I had Astor and Black in New York. And then I had Tom James in Tampa. It's interesting. You get fitted, it takes a while. I think the shirts are the biggest thing. Because we're all built so differently [in the NHL]. You can't get stuff off the rack. It either fits your neck and then you're wearing a tablecloth or it's too short in the sleeves. You have to have things built for you."
Best dressed: "I like (Matt Martin's) style. He played in New York so … I'm all for guys getting a little risky and getting colourful with it. You might have one or two suits like that in your arsenal. But you also have to keep it classic. Especially for bigger guys because we stick out anyway."
Tyler Bozak: "You know what, I just get all mine at Hugo Boss. I have just always loved their suits. They fit my body type perfectly. I don't have to tailor the jacket. I just tailor the pants a little bit. They've got really cool colours. I usually get all my stuff from there. And for shirts, I get all my shirt from State and Liberty. JVR knows them and Hunwick. They got us into them. They're just so comfortable."
Best dressed: "That's a real tough one. It's hard for me to say because these young guys have different style than I'm used to. They've got a tons of holes in their jeans. They probably think they're the best dressed, but I like a more conservative, neutral colour style so it's hard to say."
Connor Brown: "The majority of mine are from Long Island for Men, in Etobicoke. And then a couple from Empire Customs, a couple guys get them from there. I like a slim cut because I'm a slender guy. I don't like it when pants get baggy, that's what bothers me."
Best dressed: "I don't want to say because it'll go right to their head. Martin? He thinks he is. But that'll go right to his head and I'll have to deflate him. Martin and Matthews are a little bit out there."
Connor Carrick: "I have my classics that I might add to next year. But I'm always worried about stuff. I've got to move all the time. I've got to move from home then I've got to move back. And that stuff becomes a hassle at some point."
Best dressed: "Matt Martin for sure. He's dialed in."
Jake Gardiner: "I want something that fits nice but also lets you breathe when you're talking on the phone or something. You don't want it too tight on your arms."
Best dressed: "JVR's got a bunch of good suits. Everyone's pretty good this year."
Tavares: "We did the Centennial Classic suits for Morgan and Jake. That had a whole bunch of things going on in there. We had a historical feel we wanted to create. The fabric is obviously a winter weight because it was an outdoor game. And it had to be fashionable."
Matt Hunwick: "Well I just got a few, I haven't even received them yet, from Empire Customs in Toronto. And a couple from Giovanni Clothes in Montreal. They do custom suits. I'm not as trendy as some of these younger guys. I went in and got fitted and thought, 'these pants are a little snug for me.' I want to be able to tie my shoes. I want to look good but I'd rather be a little bit more comfortable than fashionable at that point. Especially considering we're wearing them on the road, on buses. Sometimes it looks like the guys are uncomfortable because their suits are so tight these days. I know I'm one of the older guys but I wouldn't wear them baggy by any means."
Best dressed: "We have quite a few guys who take pride in what they wear. Auston looks like he always has some good suits. Roman's more of a classic guy. Morgan has quite a few suits. And they get taken care of in Toronto. When you go out to dinner after the game, you want to look good. The younger guys, they're more with the times."
Zach Hyman: "Sydney's on Queen Street. My uncle introduced me to Sydney. He's an unbelievable guy and makes the best suits in town. I've got five from him. My blue and grey are standards. I've got a grey one with some green stitching. I've got a maroon one as well. I started wearing them in Junior A."
Best dressed: "I'm not going to say Auston or Mitch. I'll give it to Matt Martin. He's got some cool suits. He looks good. I'll make him feel good."
Nazem Kadri: "I have a guy in Sherway Gardens, Long Island, and he usually sets me up nice. A nice, slim fit. He'll make them from scratch. I've got a whole closet full of them. I like the neutral colours. I don't like to step out of line and look super flashy. I'll mix in a bow-tie or a bright colour every once in awhile."
Kasperi Kapanen: "I like to switch it up a little bit and get some colour in there. A razzle dazzle doesn't hurt. I might get ripped on by the guys but I think it's worth it."
Tavares: "Checks are very in style. What's really in style is a wide, window-pane. Bold checks are nice as a full suit. Very of the moment and very modern. The other thing that is popular is striking navies. Brighter navies, French navies, things like that have been in style for the last five years and will continue to be so. When you get your first custom suit, nine times out of ten it's going to be navy."
Leo Komarov: "I get stuff from Empire Customs. A lot of guys get them from there now. The quickness, how fast they do it, is probably the best thing. You order one and you get it in two weeks. Because we use a lot of suits, I had someone else here in Toronto that I used but it took way too long."
Best dressed: "I don't know. Martin? He's OK. He's trying to be fancy, that's the thing. It's a little bit too fancy. But he's probably top 3. But the young guys have really bad style this year. Maybe it's a thing when you're young, you try to be different."
Tavares: "The Leafs love to wear full suits, as opposed to what we call a "mix and match," where you wear a solid navy trouser with a nice sports jacket. That's a bit of an older look. A little more refined. I still think it's a good look but they generally prefer the full suit look for the games. Maybe that's because they're a little bit younger. And the mix and match is a little bit older.".
Josh Leivo: "I want something nice and slim, something that looks good. More plain colours. And then you use the shirts and the ties to brighten it up."
Best dressed: "Matt Martin likes to show off a bit. He's been in New York too, so he's a little fancier."
Alexey Marchenko: "Just regular stores. Whatever I see. I don't have a lot of suits. Just blue, grey and brown. I don't need too much."
Martin Marincin: "I buy suits at Harry Rosen. I just want to feel good and comfortable."
Mitch Marner: "I just started getting suits from Empire Customs. We'll see in the summertime, maybe I'll check out some new stuff."
Best dressed: "(Matt Martin) is doing pretty well in the suit game. I like a lot of his suits. (Brandon Prust) had a lot of great suits. Those two are the best of the guys I've played with."
Tavares: "(The Leafs) usually want something that's unique, something that's distinct. And something that's classy, too. Even though they're young, very young, they're not immature at all. And that comes through in their wardrobe. They usually want to create a suit that has impact, a suit that has pop. They're well aware that they have to look like a professional. And that's my job, is to give them as much pop and flair without raising an eyebrow regarding their professionalism."
Matt Martin: "I've got some customs and some off the rack. I have all the basics now so now I'm trying to find stuff that's more eye-catching. Not necessarily flashy. Do you watch Peaky Blinders at all? I'm really into stuff like that. Heavy wools. Old English, three-piece suits. I haven't done the top hats yet. Maybe one day."
Tavares: "I said to (Martin), 'Listen, you can put a cartoon character inside the liner and tell me which character you identify with.' And he said 'Hulk!' I thought, 'That makes sense.' We work together to make special suits. It's a process."
Auston Matthews: "We go to Empire Customs. I also get most of my suits from a guy back home, in Phoenix. It's called Brothers Tailors."
Best dressed: "I'd say Matt Martin. He likes the three-piece suits. He's been around for awhile, he's got good taste."
Tavares: "I think the guys like to flirt between head-turning, eye-catching and sharp suits, but not informally to the point that it looks silly. They like to be in that zone. We're able to keep it appropriate for a business situation but still make the type of suit where people take a second look. And that's difficult because usually you lose one to get the other."
Curtis McElhinney: "I haven't gone anywhere in Toronto yet. I would probably just go on the cheap end and go Suitsupply. I really don't care that much. I've bought nice suits but I don't think it makes much of a difference for me. It feels like I beat the hell out of them anyway. I can't remember the last time I bought a made to measure suit. I'm an off the rack guy. Pretty simple."
William Nylander: "Tiger of Sweden. I've got to look good."
Roman Polak: "I get my suits from back home. I get custom shirts too from Ostrava. I usually try to get some new ones every year. I'll do a package, four suits, eight shirts."
Best dressed: "The most flashy is (Mitch Marner), for sure."
Morgan Rielly: "I love wearing a suit. It's good to have options. When you go into warmer climates it's good to wear something lighter. You just want to be comfortable in it. Comfortable in the way it looks and comfortable the way it feels. I love wearing a suit."
Best dressed: "Other than myself? (James van Riemsdyk) would've been in the conversation until last night. I didn't like his shoes. Martin is very well dressed. And Matthews is well-dressed for a young guy. There's a wide spectrum. It goes from like the upper-end, the very well dressed to the Jake Gardiner's of the world. He doesn't really care."
Tavares: "They're all extraordinarily busy. The measuring is obviously very important. Anyone getting a custom suit wants it to be very adherent. That's something you have to be mindful of: you have to have the suit be very fitted, everywhere. Style is huge but fit is huge too. Their legs are just monstrous. But the shoulders of the suit and the cut of the suit are very important. Then, of course, you have to look at everything. If someone has a very large seat, big chest and a tiny waist, you can't crank it too tight or it won't look right. You have to be mindful of these things. And athletes usually bring these things: zero body fat, huge chest. You have to have that nice v-drop.".
Ben Smith: "I actually have not gotten a suit yet in Toronto. I just had a place in Chicago: Formally Modern Tuxedo. I want something that fits well and won't rip in places that it normally rips. It's hard to get a suit to fit our type of body: athletic build."
Best dressed: "If you ever see (Maple Leafs director of media relations) Steve Keogh he's got some good suits. Matt Martin also has some good suits. And (Mitch Marner) and (Auston Matthews), they bring it."
James van Riemsdyk: "I like Garrison Bespoke. They've kind of opened my eyes with that stuff. When I came into the league, I was pretty conservative, pretty cookie-cutter. They've got me to add some different stuff into my arsenal. Different colours, patterns, the fit. I'm pretty slim now. I became a little more into it when I started playing here. They invite me to different things like fashion shows, which I'd never thought I'd be into. It's been fun. They've been really good to me in terms of exposing me to different things and helping me out."
Best dressed: "Matt Martin has some good suits and good style."
Nikita Zaitsev: "I don't have a special spot. First of all fit. The suit has to fit well. I've just got four suits right now."
Best dressed: "It's hard to say. (Matt Martin) is pretty good, but he's not the best."
Tavares: "For a lot of them, it's their first year and they're already doing it. I think they know the seat they're sitting in. And they want to look the part. They want to complete the package. Why not look your best? You're only going to continue to blossom and be in the limelight. It's important: How you look is how you're perceived. How you look is how you feel."
—

Author, Escape is at Hand, available on Eternal Cavalier Press@joshuakloke